Finding a workout place abroad is not easy task, isn't it.
When it comes to Japan, it gets worse because the private fitness industry worships the membership based system.
On the other hands, the fitness gym in community center offers "hourly" rate (i mean per 2 hours, 3 hours, or daily usually depends on the community center you choose) and it's very cheap. 
Here is the one for you in Setagaya!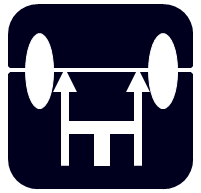 Highlights
"Fitness boot camp"
"Dynamic Lat Pulldown!"
"Like a school dome"
Overview
Okura athletics field II (Okura Dai-ni Undojo) is located in Meguro. The closest station is Seijogakuen-mae station of Odakyu railway Odawara line, but it takes about 30 minutes by walk. Don't think about getting there by walk. There is an access information here. 
Setagaya is VERY popular place for registered foreign resident from U.S.A according to statistics(Ranked in No2 for resident from U.S.A).
Residents from China comprises the most of registered foreign residents in Setagaya. Next is the residents from Korea, and next is the residents from U.S.A.
What makes this gym different from other gyms is that they got a hotel like facility. 
Check in 15:00
Check out 10:00
This means ... yes, you can do over night training boot camp! (maybe)
Gym Guide
Rate
600 yen for 3 hours, which is enough for decent training. 
Space
Is this ... a school dome?
The size and structure of training room is very much like a school dome.
When you enter the training room, you will see  
the group session space on your right; 
free-weight, machines, and cardio training space on your left; and
in between a stretch space.
And, please do not get surprised by the noise of group session. I mean the group session and resistance training space is in one space, so, during your training, you may be able to enjoy(?) the fanky and very interesting Asian style group session sounds. 
When I went there, it was a day for Mayim Mayim.
I usually don't loose my focus during my training, but I could not keep my eyes off from the session. People were screaming so loud. Everyone was so vibrating and energetic. It was almost like a weird cult dancing. 
The thing that caught my attention most was the trainer, because his socks was just so fun! Very colorful and got a long frill ... and
...
Ah ... where was I ... let's get back to the gym description...
Free-weight
Max dumbbell weight over 40kg (with some more plate it may become well over 60kg)
Power rack
Barbell
Flat bench press 3
Incline bench press 1
Flat bench
BTW, the dumbbell is not made of rubber but ugly looking iron, so when you do the "on the knee", it is kind of hurt. 
I could not find adjustable bench. 
Machines
They got decent machines.
For example, the lat pull down machine was not ordinally lat pull down machine but the ones with functionality of continuously adjusting the position of the user with the movement of the exercise arm. Something like below. 
Leg press (45 degree)
Leg curl
Leg extension
Chest press
Pec deck
Multi-cable stands
Shoulder press
Abduction machine, Adduction machine
Abs machine
Torso rotation machine
etc
No cable pulley machine
No smith machine
Other
Dip stands
Abs bench
Back extension bench
Preacher curl
Detail
Where
City of Setagaya Okura 4-7-1
Open hours
9:00-22:00
Price
600 yen for 3 hours
Other
Water server
Locker room
Shower room (free)